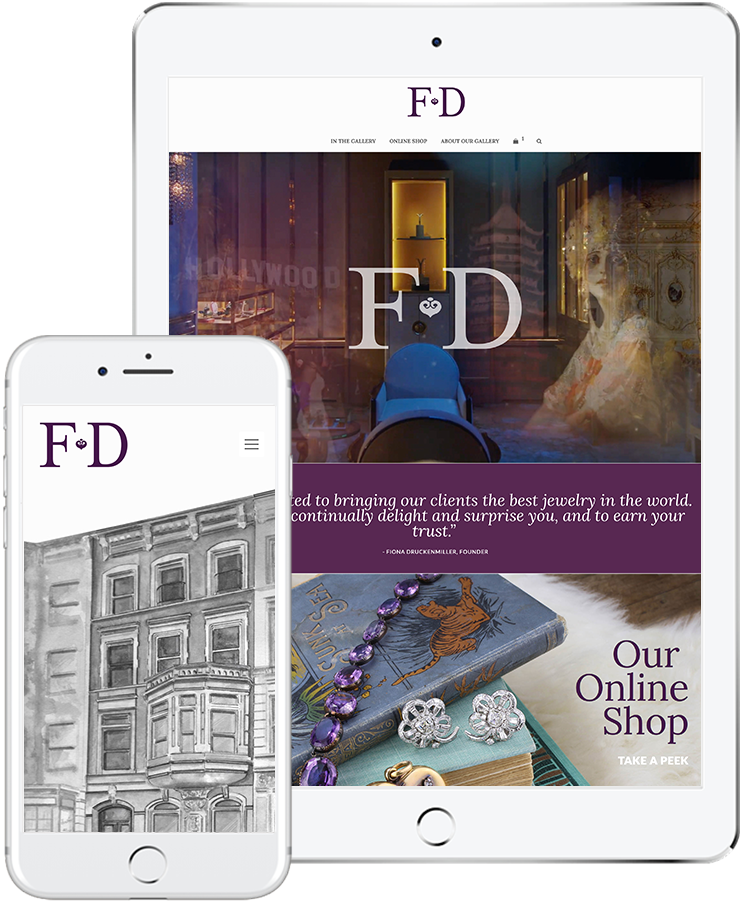 E-Commerce & Web Design
FD Gallery

With the opening of her gallery on Madison Avenue Fiona Druckenmiller had a venue to feature her collection of coveted pieces of jewelry, objet d'art, books and works of art. This site brought the experience to the web and enabled her to highlight new pieces for sale in rotating galleries within the venue's growing collection. I am the lead web designer and manager and also design and produce all print materials including quarterly catalogs, invites and mailers.

Most recently I designed and launched their e-commerce site. The fully responsive online shop brought select pieces from their collection to the web for purchase and shipping. The shop is highly customized using a mix of Woocommerce, Wordpress and Stripe. Payment options range from credit card to Alipay for ease of use by shoppers worldwide using various payment methods. The featured jewelry all have unique photos which I shot and include lifestyle and product photos (on white backgrounds). All pieces are also posted on human model illustrations to give a sense of scale. The illustrations were commissioned and I oversaw their completion and delivery.
Roles

Art Director
Web designer
Photographer
Wordpress Developer
Site Builder
1. Home page featuring sizzle video for the brick and mortar gallery and a portal to online shop
2. FD Gallery's online shop mixed category landing
3. Product page from the online shop featuring lifestyle photo, product photo and illustration (for scale). Includes a rollover image zoom
4. One of many lifestyle photos I shot for the shop
5. Jewelry overlay on illustration
6. Three quarter view of ring I shot for the shop
7. Rear view of ring I shot for the shop
8. Online shop's cart view
9. Online shop's check out page
10. Site page featuring a piece available exclusively in the gallery
11. Site "About" page
12. Founder's statement